26 May

Using AI technology to help upgrade electric utility infrastructure

Electric utilities across the U.S. are planning massive investments in the coming years to simultaneously address several related economic, environmental and technological forces. First, utilities need to upgrade aging infrastructure with equipment that is better able to withstand the severe weather patterns forecast by global warming. For example, to avoid the damage caused by extreme wind storms or fires, old above-ground transmission lines will need to be replaced with new underground cables.

Second, to meet renewable energy targets mandated by federal and state governments, utilities need to invest in new infrastructure to transition to carbon-free electricity sources. For example, new transmission lines will need to be built to connect wind and solar energy farms to population centers.

Third, the electric grid needs to be modernized to meet the ever-increasing demand for electricity for new uses that weren't envisioned when the grid was originally built. As Excelon Corp.'s ComED stated in a recent filing with the Illinois Commerce Commission, "The grid was designed decades before wholesale adoption of renewables, electric vehicles, digital devices, industrial electrification and emerging sectors like indoor agriculture." These technological innovations have outpaced the utilities' ability to meet customer demand.

How large will these electric utility infrastructure investments be? According to Edison Electric Institute, an industry trade group, utilities will invest about $140 billion annually this year and next, which is about three times greater than the typical outlay 20 years ago (see chart).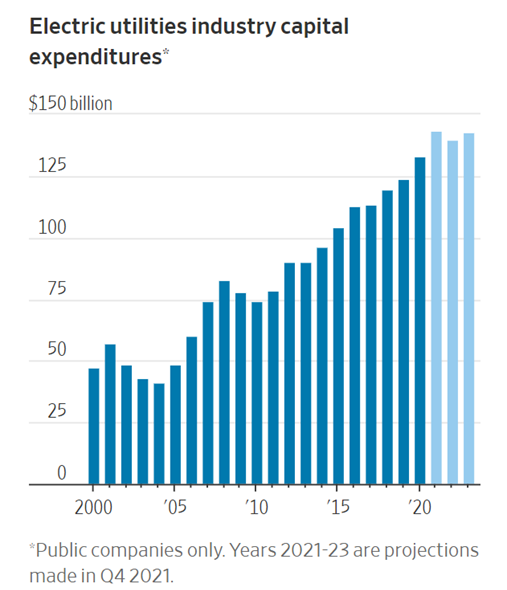 Source: Edison Electric Institute; wsj.com
One may then wonder how the utilities will finance these investments. Recent reports in the Wall Street Journal indicate that several state utility regulators have already received applications requesting permission to raise rates for consumers to pay for these infrastructure investments. The WSJ concludes that regulators will feel pressure from consumers to limit the proposed utility rate hikes because U.S. electricity customers are already facing some of the highest bills in years due to supply-chain disruptions, inflation and natural gas supply shortages.
While the regulators struggle to balance the interests of utilities and consumers, Prezerv can help utilities lower their costs and thereby mitigate rate increases. At Prezerv our team is focused on providing accurate 3D maps of the underground. Using our proprietary maps, excavators and contractors upgrading transmission lines or installing new ones can avoid damaging existing buried infrastructure. Utility designers and planners can use Prezerv's technology to determine the most efficient routes for their new transmission lines, routes that take into account regulatory permitting requirements as well as public nuisance concerns. Helping utilities avoid cost overruns and project delays, Prezerv can improve the utilities' return on investment, and in the process maybe even protect consumers' pocketbooks.
Prezerv: providing mapping technology and analytics to help electric utilities stay current.